Tag Archives:
mp3
You might have noticed that in a lot of Firefox versions the browser starts playing .mp3, or other sound/video formats, directly in the browser rather than displaying a prompt asking if you want to save the file. Moreover, setting the format under Tools > Options > Applications to either Always ask or Save File doesn't really change this behavior.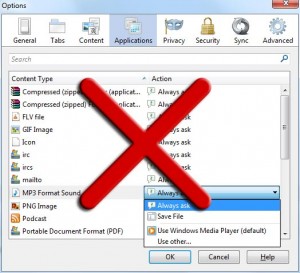 Luckily there is a workaround to alter this functionality.
Enter about:config in your Firefox's address bar and press enter.
Search for media.windows-media-foundation.enabled
Set the value of the property to false

And you are done. Now everytime you click on an .mp3 file or any other format that is supported by Windows media foundation you should get a prompt asking you if you want to save the file or if you want to open it directly.