Tag Archives:
SQL-Server

While parsing the data for Top 10 Most Popular Programming Languages 2014 I decided to make another chart that would illustrate which are the top 5 most popular databases in 2014.
As I have mentioned in the post above as well, the chart below is nowhere near 100% accurate as there are a lot of variations for each tag.
For my findings I used Stack Overflow's database to query the posts that were created in 2014, then split and shorted the tags based on how many times they appeared in the posts. After parsing and processing 9307 unique tags with a total of 97386 occurrences, these are the results.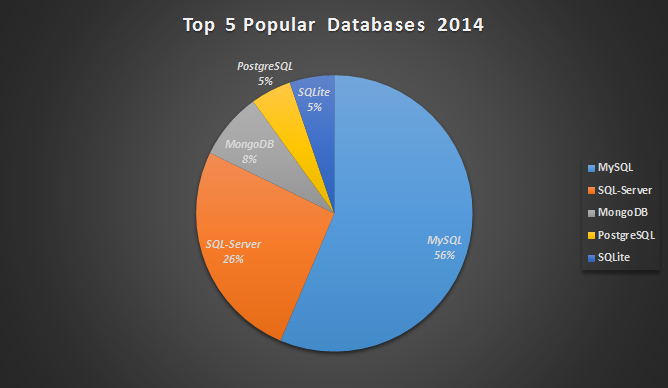 Raw Data
| Tag Name | Tag Count |
| --- | --- |
| MySQL | 54894 |
| SQL-Server | 25164 |
| MongoDB | 7605 |
| SQLite | 5090 |
| PostgreSQL | 4633 |