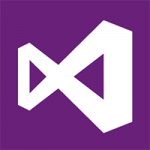 On July 20th 2015, the new Visual Studio 2015 and .NET Framework 4.6 by Microsoft became available to download.
This release is a big step to bring the productivity of these products to any developer working on any kind of application, while delivering a new level of innovation in the productivity.
Visual Studio 2015 is an integrated development environment from Microsoft with a comprehensive collection of developer tools and services, used to create apps, as well as web sites and web services.
The Visual Studio family has expanded over the years:
Visual Studio Community – a free for non-enterprise development, fully -featured, and extensible IDE for creating modern applications for Windows, Android, and iOS, as well as web applications and cloud services
Visual Studio Online – services for teams to share code, track work, and ship software – for any language, all in a single package
Visual Studio Code – refined code editor supporting cross-platform to build and debug modern web and cloud applications
Visual Studio 2015 and .NET 4.6 highlights
Innovation in productivity
Debugging and Diagnostics – unified debugging and profiling into single Diagnostics Tool window; with PrefTips you can get performance information right in your code
Code editing and Refactoring – C# and VB developers can use the new Roslyn-based tooling, including Light Bulbs that pro-actively suggest potential fixes or code refactoring tooling; with code analyzers it is possible to customize warnings and suggestions delivered inside the editor; added XAML editor
Programming Languages – this new release includes the final version of C# 6 and Visual Basic 14 and improved support for C++ 11/14/17 together with TypeScript 1.5, F# 4.0 and tools for Python and dozens of other languages