Category Archives:
Software Releases

If you own a Samsung 840 EVO SSD you probably noticed that the speed of the disk has degraded a lot faster than expected. This is a known problem with this model and luckily Samsung has released a fix to remedy the problem.
Samsung Performance Restoration was created by Samsung to fix the performance issues for the Samsung SSD 840 EVO and Samsung SSD 840 EVO mSATA models.

What does this do you may ask ? Samsung Performance Restoration simply updates your SSD's firmware to the latest version (this firmware version has not been released separately yet) then scans and calibrates all existing data on the drive. This process can take up to one hour, depending on how much data you have on the drive.
Note that although this process does not wipe your disk it is always recommended to backup all your important files when performing a firmware update.

System requirements for Samsung Performance Restoration:
Supported Operation Systems
Windows XP SP2 (32bit)
Windows Vista (32/64bit)
Windows 7 (32/64bit)
Windows 8 & 8.1(32/64bit)
Supported Partition Types:
Supported SSD Models:
Samsung SSD 840 EVO (2.5")
Samsung SSD 840 EVO mSATA
Currently only the Windows version is available to download. Samsung announced that the Linux and Mac version will be released at the end of October.

Microsoft has released a tenchical preview version for Windows 10.
Remember, trying out an early build like this can be risky. That's why we recommend that you don't install the preview on your primary home or business PC. Unexpected PC crashes could damage or even delete your files, so you should back up everything.

After you install Windows Technical Preview, you won't be able to use the recovery partition on your PC to go back to your previous version of Windows.
Keep in mind that this version has Windows updates on by default and they can not be disabled. Moreover, Microsoft will collect various information. For more information read Privacy Statements for Windows Technical Preview

Product Key: NKJFK-GPHP7-G8C3J-P6JXR-HQRJR
Download Links

QR Workshop is a free, open source and portable application that allows you to generate QR codes of your choice.
As you can see below the interface is minimal and very simple to use. In order to generate a QR code you simply need to specify the dimensions (width and height) of the image you would like to create and enter the text that will be encoded in the QR code image itself. Then simply press generate and save the image.
QR Workshop can also be used as a QR code reader which allows you to decode and display the information that is encoded within a QR code image. In order to do that you have to switch to the QR Code Reader tab, drag&drop the QR code image in the text field or simply click the browse button next to it in order to open the file browser which you can use to select one. Finally after you have selected the image of your liking click Decode.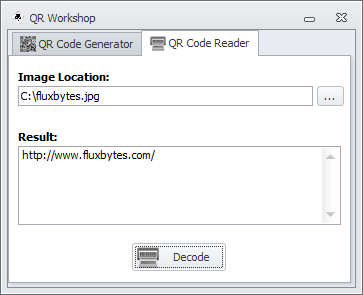 QR Workshop requires Microsoft .NET Framework 3.5 and Windows XP or higher in order to run properly.
ResWatcher is a lightweight and portable utility that displays the resource usage (CPU/Memory/Hard disk/Network) of your system.
ResWatcher Features:
Free.
Portable (No installation required).
Allows you to monitor your total download and total upload (extremely useful feature when bandwidth is limited).
Displays the top 5 processes in terms of CPU usage, making it easy to find the processes that slow your system down.
Minimizes to the traybar in order to give your more taskbar space for your important applications.
Internet Explorer 11 for Windows 7 is now available for download.
This is the final release and comes with a lot of improvements as far as performance, security, privacy, and reliability goes. For more detailed information visit MSDN's IEBlog.
Download Links (english version)
If you are interested in other languages you can visit Microsoft's download section for Internet Explorer 11.